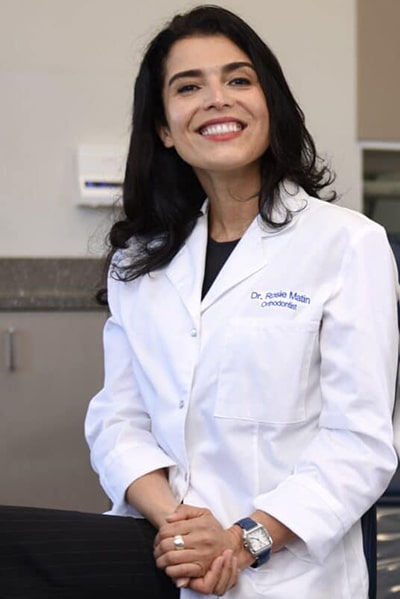 With over 20 years of experience in the field of dentistry, Dr. Rosie Matin loves being a smile-maker. She was born in Tehran, Iran and graduated in the top 3% of her class from one of the premier dental schools in the region. Her dental school thesis focused on orthodontics and has been recognized in both international conferences and orthodontic journals. She practiced general dentistry for four years before completing her orthodontic residency at the University of the Pacific, Arthur Dugoni School of Dentistry, in 2008. She has practiced all aspects of orthodontics since then, is well-versed in all treatment modalities and is committed to excellence and continuing education in our field. 
When she's not working, Dr. Matin loves to travel and live an active lifestyle. In addition, she's fluent in multiple languages including English, Farsi and French. She also loves volunteering and using her skills and expertise to help others. Over the past 14 years, she has volunteered as an orthodontic consultant at Lucile Packard Children's Hospital at Stanford, taken part in several cleft lip/palate missions to Mexico and has helped as a volunteer orthodontist at the SF public health department. 
Dr. Matin has been a part of Cucalon Orthodontics since 2016 and shares Dr. Cucalon's treatment mentality, work ethic and commitment to honesty and integrity. She puts patients at ease, is always available to answer questions or address concerns and give patients the best orthodontic experience possible, so that you always leave her care with a smile. 
Professional Affiliations